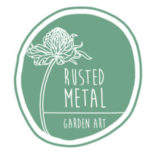 Rusted Metal Garden Art
Purveyors of fine rustic garden art
Adelaide, South Australia
    

What screams Australian more than a koala? And no, they are not called koala bears (I'm hoping an American will read this and spread the word to finally dispel this inaccurate name). This laid-back wall art embodies that furry-eared, spoon-nosed Aussie emblem - the understated and much-loved koala. Did you know that koalas spend about twenty hours each day taking a nap and the other few hours are invested in munching on eucalyptus leaves? Food choices aside, I think the koala's lifestyle choice is genius.
Proudly handmade in Adelaide, South Australia, this laser cut sculpture measures 32cm x 25cm. This product is manufactured from 1.6mm thick Corten steel and will rust naturally when exposed to the outdoor elements, resulting in a rich orange/red colour.
This koala wall art is ideal for fixing to timber fences, posts and shed walls, and is certain to inspire relaxation and down time in your garden, yard or outdoor chill out space. Who knows, maybe you'll even decide to take a leaf out of the koala's tree and take a nap.
Did you know that the koala's closest living relative is the wombat? Why not make is a family affair by pairing our koala wall art with our wombat wall art?
Additional information
| | |
| --- | --- |
| Weight | 0.0 kg |
| Dimensions | 0.0 × 0.0 × 0.0 cm |
| Item Condition | New |
| Brand | Rusted Metal Garden Art |
| Barcode | 794179719459 |
Only logged in customers who have purchased this product may leave a review.