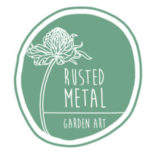 Rusted Metal Garden Art
Purveyors of fine rustic garden art
Adelaide, South Australia
    

Kangaroo Large Garden Stake – Australian Made Rusted Metal Garden Art
Our popular kangaroo garden stake just got BIGGER!
Did you know that there are four living species of kangaroo and that the red kangaroo is the most recognised variant internationally? The eastern grey kangaroo is the most populous species and is found along eastern Australia from Cape York to Tasmania. The smaller western grey kangaroo inhabits the south of the continent from southern West Australian to south-western New South Wales; and the lesser-known variant is the antilopine kangaroo found across northern Australia. Whichever cousin you're roo-ting for, you can't go wrong with this booming addition to your yard!
Proudly handmade in Adelaide, South Australia, this laser cut sculpture measures 80cm high(including the 12cm foot spike) and 75cm wide. This product is manufactured from 1.6mm thick Corten steel and will rust naturally when exposed to the outdoor elements, resulting in a rich orange/red colour.
Stake out your lawn with this large kangaroo sculpture ideal for placement in garden beds as a free-standing piece using the foot spike.
Need a gift for your friend Joey? We've got you covered with this big buck! I mean jill...
Additional information
| | |
| --- | --- |
| Weight | 1.9 kg |
| Dimensions | 75 × 80 cm |
| Item Condition | New |
| Brand | Rusted Metal Garden Art |