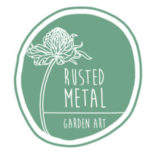 Rusted Metal Garden Art
Purveyors of fine rustic garden art
Adelaide, South Australia
    

Magpie Post Topper- Australian Made Rusted Metal Garden Art
Elevate your garden with our Magpie Post Topper, a stunning piece of rusted metal garden art crafted from durable 1.6mm Corten steel. Inspired by the iconic Australian magpie (Gymnorhina tibicen), this unique topper captures the essence of this native bird, adding a touch of rustic charm to your outdoor space.
With a rustic rust finish that naturally weathers and matures over time, this topper exudes timeless beauty while requiring minimal maintenance. Designed to be easily fixed onto posts, our garden statue stands tall and vigilant, overlooking your garden with an air of elegance and grace.
Handcrafted with pride in South Australia, each topper is a testament to local craftsmanship and a celebration of Australia's natural beauty. The Magpie Post Topper is a conversation piece and a symbol of native wildlife, bringing the spirit of the Australian outdoors right into your backyard. Transform your garden into a sanctuary with this exquisite piece, where nature and art converge.
Specifications:
Height 19cm
Width 30cm
Additional information
| | |
| --- | --- |
| Weight | 0.0 kg |
| Dimensions | 13.8 × 7.9 × 0.6 cm |
| Item Condition | New |
| Brand | Rusted Metal Garden Art |