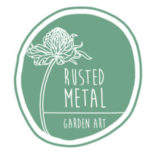 Rusted Metal Garden Art
Purveyors of fine rustic garden art
Adelaide, South Australia
    

Kookaburra Post Topper
Elevate your garden with a touch of Australian charm through our Australian Kookaburra rusted metal garden art. This iconic piece beautifully captures the spirit of the native Kookaburra bird, creating a rustic yet elegant focal point for your outdoor space. Meticulously crafted from robust 1.6mm Corten steel, it effortlessly perches on posts or fences, seamlessly integrating into your garden's natural ambiance. Let the Kookaburra's presence resonate with the beauty of the Australian wilderness, bringing a delightful touch of nature to your home's outdoor haven. Made in Australia, this art piece is a true representation of our country's unique character and wildlife.
Size : H 23cm x W 19cm x D 2cm
Additional information
| | |
| --- | --- |
| Weight | 0.0 kg |
| Dimensions | 11.8 × 7.9 × 1.2 cm |
| Item Condition | New |
| Brand | Rusted Metal Garden Art |
Only logged in customers who have purchased this product may leave a review.