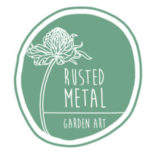 Rusted Metal Garden Art
Purveyors of fine rustic garden art
Adelaide, South Australia
    

Echidna Garden Stake – Australian Made Rusted Metal Garden Art
This carefully crafted garden stake pays homage to one of Australia's weirdly wonderful monotremes - the echidna. Those early European zoologists thought they had carefully classified every species known to man into clearly defined groupings. They were in for a rude shock when the echidna quivered its quills and the platypus bared it's bill at them. The marvellous monotremes certainly had they last laugh, defying those silly humans who dared to say that mammals couldn't lay eggs.
Proudly handmade in Adelaide, South Australia, this laser cut sculpture measures 29cm in length. This product is manufactured from 1.6mm thick Corten steel and will rust naturally when exposed to the outdoor elements, resulting in a rich orange/red colour.
Complete with two feet spikes, this echidna garden sculpture is ideal as a free-standing feature in garden beds. Give the echidna a nod and dare to defy the rules-based order by adding this rustic art piece to your backyard.
Additional information
| | |
| --- | --- |
| Weight | 0.0 kg |
| Dimensions | 13.8 × 7.9 × 0.4 cm |
| Item Condition | New |
| Brand | Rusted Metal Garden Art |
| Barcode | 794179719251 |
Only logged in customers who have purchased this product may leave a review.